Introduction to Website Accessibility
November 30 from 9:30 am - 12:00 pm


Cost: $129 (Member Discounts Available)
Nearly one in six Manitobans is disabled by barriers where they work, live, and play. It is easy to take simple things like accessing a web site for granted, but barriers to accessibility are real and constant challenges for persons with disabilities. Accessible websites are very important and will likely be required under the Accessibility for Manitobans Act (AMA).
Two sessions are scheduled as follows:
Session 1: November 30th, 9:30am-12:00pm CST
Session 2: December 1st, 9:30am-12:00pm CST
The focus of these two half-day workshops will be to introduce attendees to website accessibility best practices, so that they can start to make their websites more accessible for people with different disabilities.
What You Will Learn:
What kinds of software, hardware, and apps people may use to access your website.
The basics of the WCAG 2.1 (2.2 Draft) standard, and how we need to go further than this standard.
Major accessibility concepts that can be applied to websites.
Practical tips, and some tools, to help start making your websites more accessible.
Hands-on exercises to practice some of the tips, so you can apply your knowledge right away to your websites.
---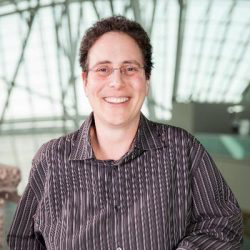 Presenter Bio: Through her company, Access Changes Everything Inc., Lisa Snider provides digital accessibility consulting, remediation, audits, user testing by people with different disabilities, manual and automated testing, procurement consulting, presentations on general and specific digital accessibility topics Introduction to Digital Accessibility, Technologies Used For Digital Access, etc.), as well as in person, and virtual, training and workshops on software and formats (PDF, Word, InDesign, PowerPoint, website accessibility, etc.).
Lisa Snider has over 20 years' experience working with digital accessibility in different settings and contexts, as a web developer, librarian, archivist and as accessibility consultant. She has provided services for North American institutions and businesses, including the Canadian Museum for Human Rights, the Government of Manitoba, and the University of Manitoba.
Lisa's passion in life is making websites, documents, audio, video, social media content, electronic signage, e-books, apps, etc. more accessible for people with disabilities. As well, Lisa shares her knowledge through education, auditing, and lived experiences of testers with disabilities to make digital materials more accessible for people with different disabilities.
Lisa was Chair of the Government of Manitoba's Accessibility for Manitobans Act Information and Communications Standard Development Committee, was a Stakeholder in the W3C Accessibility Guidelines Working Group Silver Task Force (WCAG 2.1) and is a member of the ATHEN Microsoft Office and Mac Outlook Accessibility Groups, and the Microsoft Inclusive Workplace Customer Advisory Council, collaborating with Microsoft to improve the accessibility of their products.
---
In Partnership With: