Robotics spark interest in learning by providing a fun space to build, test, iterate and play!

Robotics North is the latest New Media Manitoba educational initiative designed to get students working on building and coding their own robotic creations. The program provides challenging, fun, and hands-on activities for students to gain STEM learning experiences.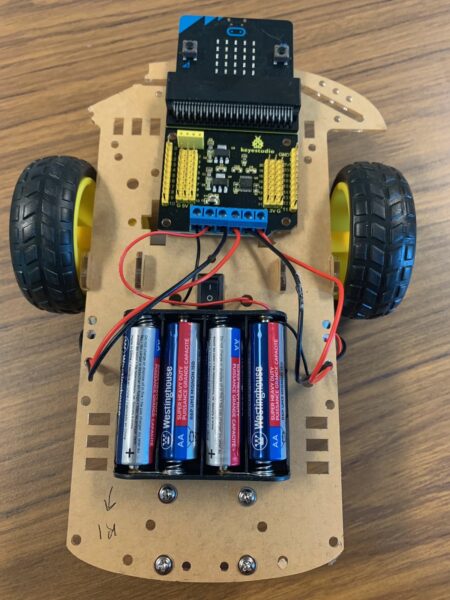 Robotics North goal is to remove barriers and help classrooms move beyond the basics of block coding and into text-based coding.
This is an essential transition, and robots can capture learners' attention in a way that eases this process.
Robots serve as the perfect output for text-based code to discover the need for computational thinking and see the results of their actions in their robot's success or failure.
NMM is excited to offer this new initiative exclusively for students and teachers in Northern Manitoba.
How it Works
Hands-on and interactive, these workshops are approachable, fun and geared to bring more STEM learning experiences into classrooms. We provide everything classrooms need to exceed, from workshops, materials and coaching.

Working with our academic partners and instructor, we provide classrooms with enrichment sessions in code/engineering in robotics, including:
Pre-work session with schools (1 hour remote)
Robotics session with our instructor (6 hours in person)
Coding session with our instructor (6 hours in person)
Follow-up session with teachers and administration (1 hour remote)
Learning Outcomes
Sessions will enable students to construct robots from individual components and then learn how to bring them to life with code.
Learn the basics of robotics
Design and build a robot from scratch
Develop basic programming skills to enhance the functions of your robot
About the Robotics North Initiative
Helping students understand how technology works at a functional level and how healthy critical collaboration works is a lesson all students need. These training workshops empower teachers and students to explore the possibilities by providing technology access.
---
About Callysto
Callysto is a free, online program that helps Grades 5-12 students and teachers in Canada strengthen their data literacy, data science, and computational thinking skills in the classroom, across any subject matter. Callysto is a joint project by Cybera and the Pacific Institute for the Mathematical Sciences and is funded by the federal government's CanCode program to build and employ new technologies that promote digital literacy, and help Canada's youth develop the foundational skills required to become the future drivers of innovation.